Visit
Welcome to the Liberty Hall Academic Center
Galleries at Kean is Union County's premiere venue for arts and entertainment. Each year, we bring a rich array of diverse exhibitions and lectures to the Kean University community. 
Image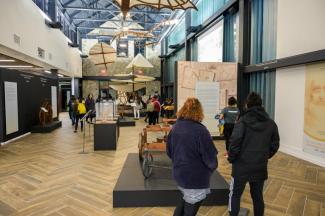 Hours
Karl and Helen Burger Gallery
Monday-Friday 10 AM-4 PM
Nancy Dryfoos Gallery  
Monday-Friday 10 AM-4 PM
Human Rights Institute Gallery 
Monday-Friday 10 AM-4 PM *Opening October 2, 2023
Liberty Hall Academic Center (LHAC) gallery 
Monday-Sunday 10 AM-4 PM
Image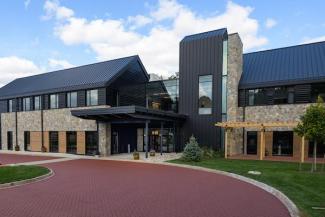 FAQs
Do I need a reservation to visit the Galleries at Kean? 
Most exhibitions are able to accommodate walk-ins, though special exhibitions may require advance reservations. Contact us at galleries@kean.edu or check our exhibitions page for additional information.
How much does admission to the Galleries at Kean cost?
The majority of exhibitions at the Galleries at Kean are open to the public free of cost. Special exhibitions are subject to fees that support the exhibition program and special initiatives.
Is there a group discount? 
Group fares are available, please contact galleries@kean.edu for more information. 
How can I arrange for a group visit? 
You may contact us to schedule a group visit at galleries@kean.edu. 
Is there an age requirement to visit the Galleries at Kean? 
All ages are welcome to visit the Galleries at Kean though we request that those under 16 be accompanied by a chaperone. 
What is the connection between the Galleries at Kean and Kean University?
The Galleries at Kean are part of Kean University's cultural offerings. 
What precautions are the Galleries at Kean taking against the COVID-19 pandemic? 
In order to maintain a safe and vibrant learning environment, we recognize that we must protect the health and safety of all members of our Kean community and minimize the spread of COVID-19 on our campus. Kean University's COVID-19 protocols include regular deep-cleaning and disinfection, maintaining social distancing, wearing masks inside campus buildings and community/self-monitoring for symptoms. Please see covid19.nj.gov/ for the latest New Jersey state recommendations. Please use your best judgement, stay home and seek medical attention if you do not feel well. 
Do you provide ADA accommodations? 
We aspire to provide an accessible and welcoming environment for all visitors. Contact galleries@kean.edu with a request. 
Are visitors permitted to eat in the museum?
Out of consideration for the safety of our staff and guests we do not allow eating inside the Galleries at Kean. 
Do you have any facilities where I may nurse my child or pump?
There are private family bathrooms in the Liberty Hall Academic Center (LHAC) Gallery on the Liberty Hall campus. 
Is internet access available for visitors?
Guests may access Kean University's public Wi-Fi network KU AIR.
Are pictures allowed in the Galleries at Kean?
Smartphone photography is permitted in the Galleries at Kean. Professional photography (including images taken with starter DSLR cameras) is not permitted. Share your photos with us by tagging @galleriesatkean.
Image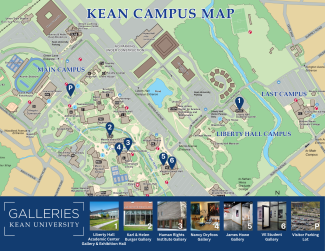 Directions 
Map of the Galleries at Kean University
By Car
The Galleries at Kean are located at 1003 Morris Avenue #2, Union, New Jersey 07083. They are easily accessible by the NJ Turnpike (Exit 13A), the Garden State Parkway (North: Exit 140, South: Exit 141), Interstate Route 78 (GSP Exit) and Route 22 (Highway 82 East-Elizabeth). 
By Public Transportation 
On Kean's Union Campus, the Kean University trolley is accessible to visitors. No tickets or passes are required. 
Train
NJ Transit provides service to the Galleries at Kean by bus and train. Train service arrives via the Raritan Valley Line (schedule here) and the Northeast Corridor line (schedule here) taken to Union Station, adjacent to Kean's main campus. 
Bus 
NJ Transit provides bus service to the Galleries at Kean via the #52, #26, and #113 lines. 
For more information about fares and schedules including real time updates visit www.njtransit.com