WE DECLARE
October 2, 2023 - December 8, 2023
Human Rights Institute Gallery
About the Exhibition
WE DECLARE, a mural honoring the 75th anniversary of the Universal Declaration of Human Rights, by Artist-in-Residence Ricardo Roig, will feature many leading human rights activists. Highlights will include human rights advocates from New Jersey; influential Human Rights Institute Annual Conference speakers; and commanding historical figures, who made the creation of this document and its enactment, their life's work.
The United Nations describes the Universal Declaration of Human Rights (UDHR) as a milestone document in the history of human rights. Drafted by representatives from different legal and cultural backgrounds across many regions of the world, the Declaration was proclaimed by the United Nations General Assembly in Paris on 10 December 1948 as a common standard of achievements for all peoples and all nations. It sets out, for the first time, fundamental human rights to be universally protected and it has been translated into over 500 languages. The UDHR is widely recognized as having inspired, and paved the way for, the adoption of more than seventy human rights treaties, applied today on a permanent basis at global and regional levels.
Visit the un.org for more information on this influential document.
Image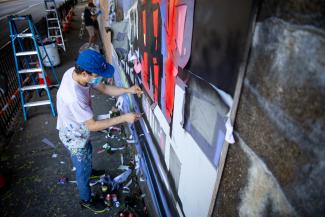 The Human Rights Institute Gallery
Kean University

October 2, 2023-December 8, 2023

This Gallery is located on the first floor of the Learning Commons in the Human Rights Institute. Complimentary parking is available in the Visitors Lot next to the Administration Building.