Artist-In-Residence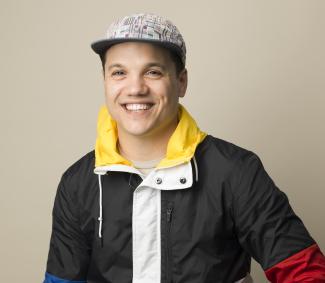 The artist-in-residence (AIR) program seeks to connect students to opportunity through art. Having a celebrated artist and industry leader on campus sharing a new body of work, enhancing the curriculum with hands-on learning through workshops, industry networking through partnerships, creative internships and entrepreneurial instruction on gallery management, is what makes this program at Kean University stand out. The AIR program is a multidisciplinary collaboration led by the Galleries at Kean in partnership with the Human Rights Institute, College of Liberal Arts, Fine Arts Department, Office of Career Services and the Office of the President.
Ricardo Roig, Kean University alumnus, becomes the next artist-in-residence at Kean University from Fall 2023 through Spring 2024. In honor of the 75th Anniversary of the Universal Declaration of Human Rights, Roig will paint a mural celebrating those who have advocated for human rights throughout history, and the many figures who have participated in the Human Rights Institute's annual conference at Kean University. The mural, composed of movable panels, will be revealed in Fall 2023 and will remain on display through December. It will then move on to its permanent home in the town of Metuchen, a semifinalist for the 2023 Great American Main Street award. Roig will host several 'mix and sips' on Kean's main campus. In Spring 2024, he will exhibit a new body of work in the Karl and Helen Burger Gallery located on the first floor of the Center for Academic Success.
"Ricardo's work is imaginative, colorful and inspiring. He brings an energy to his art that radiates off of the paper. The Galleries at Kean are honored to collaborate with several divisions, students, faculty and staff, to bring this rising star fine artist to Kean," said executive director of the Liberty Hall Academic Center and the Galleries, Lynette Zimmerman.
Roig, a contemporary fine artist born in New York City in 1983, owns and operates multiple art galleries in Boston, M.A., and Hoboken and Westfield, New Jersey. Roig's signature style of art is his innovative hand-cut prints. His modern, original works on paper offer the world a new form of art. Every color stencil layer is patiently hand-cut from the paper with a razor blade, attached to a screen, and pulled through with vivid paint colors, one layer at a time.
Roig exhibits his work in the W Hoboken Hotel. He serves as their artist-in-residence with the Window Gallery on River Street in Hoboken. This partnership has brought an international audience to Roig's work. Roig also exhibits in NYC's Upper East Side at Gallery 71. He is collaborating with KW Realty, seeking placement with their VIP Fitting Lounges from Beverly Hills, Miami, and all 19 national locations. And Roig is partnering with Christie's International Real Estate Hoboken for a special live auction set this spring.
Roig's work has a wide appeal that crosses industries. He has done commissions for NYU Stern School of Business, Rockrose Development NYC, Amazon, The Beekman Hotel, Hilton Hotels, city of Jersey City, city of Hoboken, town of Westfield, W Hotels, New York-Presbyterian Hudson Valley Hospital, and many private clients.
Ricardo resides with his wife Michelle and their two children in Scotch Plains, New Jersey.